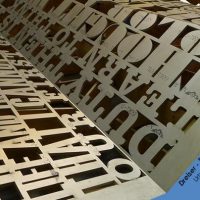 Theodore Dreiser, born in Terre Haute, Indiana in 1871, is often known as the "father of American Naturalism." His writing style had a tremendous influence on his contemporaries as well as many writers today. He is the author of eight novels and numerous short stories, drama, poetry, and non-fiction works, including his most
widely known Sister Carrie and An American Tragedy.
Art Spaces, Inc. and Vigo County Public Library are pleased to announce a new public sculpture honoring Dreiser, for downtown Terre Haute. Located near the north entrance of the Main Library on Walnut Street, the sculpture will become part of the Art Spaces collection and will also add interest and attraction within Terre Haute's newly designated Arts and Cultural District. Dreiser – Shadows of Meaning, created by UrbanRock Design of Los Angeles, California, is an aluminum sculpture celebrating Dreiser's importance to the rich cultural heritage of Terre Haute and the field of world literature.
A public dedication will take place on Friday, April 26 at 11:30 a.m.  The event is free and open to the public. For information: 812-235-2801
UrbanRock Design is a cross-disciplinary art, architecture, and design studio working in public art planning and urban design. Through unique site-specific projects they seek to transform the ordinary into moments of delight and to provide communities with transformed and enlivened connection to public places.
Jeanine Centuori and Russell Rock are co-founders and principals. Centuori is a licensed architect and Director of the Architecture of Civic Engagement Center (ACE) at Woodbury University in Burbank, California. Her professional and academic work has been awarded, published, and recognized nationally. Rock is a practicing artist of 29 years who received an MFA from Wayne State University in Detroit, Michigan. Most of his recent artwork has been public in nature, created collaboratively with Centuori. He also brings to the team many years of experience in urban design.
The unique artwork contains an engaging collection of Dreiser's phrases gathered from various of his works, offering varied experiences dependent, in part, on the viewer's distance from the work as well as the sun's daily path which, on occasion, creates shadows of his words on the pavement, reminiscent of Dreiser's quote "Words
are but the vague shadows of the volumes we mean. Little audible links, they are, chaining together great inaudible feelings and purposes."
This sculpture has been made possible by the Hollie and Anna Oakley Foundation, Wabash Valley Community Foundation, Duke Energy Foundation, Friends of Vigo County Public Library, ST Construction, Inc., with added support from the International Theodore Dreiser Society and many individual contributions.