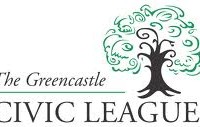 C L E A N C I T Y D A Y
Greencastle Clean City Day
Keeping Greencastle Beautiful
Saturday, April 27, 2019
The Greencastle Civic League, in collaboration with the City of Greencastle, is excited to
present Clean City Day–a day dedicated to bringing people together to make our city clean, welcoming and inviting to our residents, businesses and visitors.
We invite you to gather with us to pick up trash, paint fences, prepare ballparks, plant flowers or trees, or pursue other activities that make Greencastle a clean and beautiful place to visit, live and do business.
You can join us by proposing a project and participating in trash and yard waste disposal. More info below!
Join Us–Register Your Project
Does your business, school or community group want to propose your own project? Register your project (submit your form here) and volunteers. All registered volunteers will receive a free Clean City Day t-shirt.
Possible Locations*
Schools
Parks
Ball Fields
Playgrounds
Parking Lots
Alleys
Main Streets
Neighborhood Blocks
Business Storefronts
* Project organizers are required to gain approval from property owners.
Project Examples
Pick Up Trash
Plant Trees or Flowers
Trim Hedges or Bushes
Spread Mulch
Paint Fences
Paint Play Equipment
Ballpark Maintenance
City of Greencastle Initiative: Trash & Yard Waste Disposal
Residents of the city of Greencastle are invited to dispose of household trash and yard waste at designated locations throughout the city. This service is free of charge with proof of residency and Greencastle utility service.  More information about types of trash and yard waste, along with disposal locations will be available soon. Stay tuned!
GREENCASTLE CIVIC LEAGUE
Improving life in Greencastle, Indiana, through beautification and clean-up projects, cultural development and the arts.