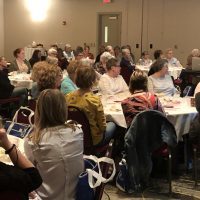 On Wednesday, April 17, 2019 Putnam County Hospital held their 2nd Annual Women's Tea at The Inn at DePauw.  There were over 90 women in attendance ranging in ages from 17 to 90 is learn more about Skin Cancer Prevention and Awareness.
"The goal of our Women's Tea is to help further educate women in our community about preventative methods of different types of cancer and signs and symptoms to look for.  This year we chose the topic of skin cancer and I believe it is something that is often times looked over.  If we can help save one life or influence one person to get a skin screening than we had a successful event," said Director of Marketing and Community Relations for PCH, Brooke Trissel.
The evening opened up with an introduction and welcome from PCH Director of Nursing, Joni Perkins.  Followed by Dr. John Stevens, Dermatologist at Putnam County Hospital who spoke in depth about what to look for to detect early signs on skin cancer.  Dr. Keith Thomae of Putnam Surgical Specialties was the next speaker for the evening.  He used an in depth power point presentation to speak on the subject.  Then Mary Beth Kaiser, Director of Pharmacy at PCH, was entertaining and informative as she spoke about sunscreen and what the different SPF's mean.
The evening speakers wrapped up with a testimonial from Putnam County Oncology patient, Joy Marley.  Joy shared her story of battling with Melanoma.  "I was able to receive exceptional healthcare close to home", stated Joy several times throughout her presentation.  When she was done speaking there was not a dry eye in the room.  Director of Marketing, Brooke Trissel said, "Becky Hutcheson had asked Joy to speak and she was a little hesitant and nervous, but she was absolutely fabulous.  Her story is something that many can learn from and I believe she touched many lives this evening."
As the evening came to a close everyone in attendance received a PCH beach bag filled with information, sunscreen, lip balm, sunglasses (compliments of the Waters of Greencastle), two Triple M Bakery cookies (compliments of Autumn Glen), and a beach towel (compliments of Hickory Creek).  It was a great gift for all that attended and a wonderful event to further educate women in our community!
"Putnam County Hospital and Cancer Center cannot thank the women in attendance, our guest speakers, or the amazing businesses that donated items for our gift and raffle enough. It was a great evening for all," Said Brooke Trissel
Joy Marley said it best when she said that Putnam County Hospital is providing exceptional healthcare and community education close to home.