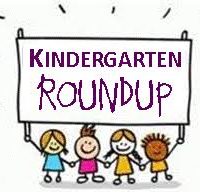 It's that time of year again for Kindergarten round-ups!  Dates have been set for students who will be entering into Kindergarten in the Greencastle School Corporation.
Children must be five years old on or before August 1 to be eligible for Kindergarten.  Round up dates are limited to incoming Kindergarten students only.
Ridpath Primary School will hold it's round-up on Tuesday, April 23 from 12-7 p.m.
Deer Meadow will conduct its round-up on Thursday, April 25 from 12-7 p.m.
During the round-up, children will participate in language arts and math assessments,  while parents complete some standard paperwork and complete the online process in the computer lab.  Teachers and school staff will be available throughout the round-up.
Parents will have the opportunity to bring up any known speech or hearing difficulties with teachers and staff.  Actual speech and hearing screenings will be conducted in the fall, due to the time it takes to conduct the screenings.
Parents should bring the following to the round-up:
your child
a certified copy of your child's birth certificate
most recent shot records
Immunization requirements can be found on the Greencastle School Corporation website.
Please contact Deer Meadow at 653-3518 or Ridpath at 653-3315 with any questions.