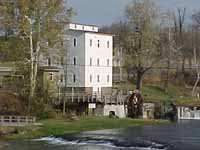 The Historic Mansfield Roller Mill will participate in Mansfield's Mushroom Festival on April 27 and 28, staying open from 9 a.m. to 5 p.m.
Shop from the vendors, tour the mill, or buy or sell bags of morels during the mushroom auction on both days of the festival, or view the car show on April 28.
Explore the historic mill's three stories, which contain original 1880s milling equipment.
The Historic Mansfield Roller Mill is managed by Raccoon State Recreation Area and is located six miles south of U.S. 36, off State Road 59 in Mansfield. Raccoon State Recreation Area (on.IN.gov/raccoonsra) is at 1588 S. Raccoon Parkway, Rockville, IN  47872.