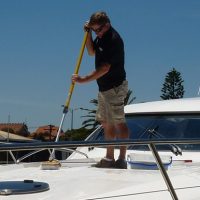 As the weather warms and more people get out on their boats, the Indiana Department of Natural Resources reminds boaters to prevent the spread of aquatic invasive species by cleaning, draining, and drying their watercraft when they are finished on the water.
"This week we celebrate Invasive Species Awareness week by highlighting how the public can do their part in protecting Indiana's lakes and rivers from aquatic invasive species," said Eric Fischer, aquatic invasive species coordinator for DNR Division of Fish & Wildlife.
Aquatic invasive species (AIS) are non-native aquatic animals, plants, microorganisms, and pathogens that can hurt native aquatic plants and wildlife, harming the environment, human health, and businesses. They arrive in a variety of ways, including on trailers, on boat hulls and motors, on fishing gear, and through the pet trade.
Clean: When leaving the water, clean all equipment that touched the water. This includes watercraft hulls, trailers, shoes, waders, life vests, engines and other gear. Remove all visible plants, algae, animals and mud.

Drain: Drain accumulated water from watercraft or gear, including live wells and transom wells, before leaving the ramp or public access point.

Dry: Once home, let all gear dry for at least five days before using it in a different water body.

If you suspect you have found an aquatic invasive plant, fish, mollusk, or crustacean, report it to the Division of Fish & Wildlife at dnr.IN.gov/6385.htm, through the Report IN app at eddmaps.org/indiana, or by calling the Invasive Species Hotline at 866-NO-EXOTIC (866-663-9684).
To view all DNR news releases, please see dnr.IN.gov.
                                                                        -30-
Media contact: Eric Fischer, aquatic invasive species coordinator, Indiana DNR Fish & Wildlife,efischer@dnr.IN.gov, 317-234-3883.