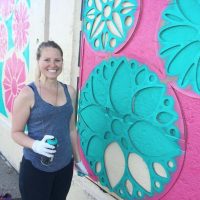 Megan Caruso, co-founder of Harrisburg, Pennsylvania-based Sprocket Mural Works, will speak Thu, April 11, at 7 p.m., in the Inn at DePauw's Emerson Room, about how we are affected by our surroundings and the role the arts play in providing a shared narrative within communities. Everyone interested in art, especially public art and quality of life, is invited to this free presentation hosted by the Putnam County Visitor's Bureau.
Through traveling abroad, Megan was inspired by public murals in Brussels, London, and street art in Florence. These experiences created a growing desire to make her home town of Harrisburg more beautiful through public art. After a year of research, she co-founded Sprocket Mural Works, a volunteer-run organization. Sprocket's mission is to inspire civic pride, encourage community engagement and beautify Harrisburg through public murals.
The public talk will explain how we are all affected by our surroundings, whether we realize it or not. We are also greatly influenced by the stories that are told about where we live, where we come from. They directly impact how we see ourselves and live our lives. Murals can be used as a powerful tool to positively affect the way we walk through our environment on a visual and emotional level. I also plan to talk about how Sprocket originated and formed, how we operate. Our future goals.
Since forming in 2014, Sprocket has painted and collaborated on 70 public art pieces in the Greater Harrisburg region, commissioned 50+ artists, engaged 50+ community organizations, and worked with 300+ volunteers. In addition to being the founder and director, Caruso is a celebrated free-lance designer, as well as creative director for "The Burg" magazine.