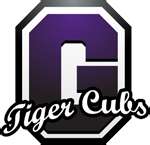 Team Score:  GHS 193      West Vigo 208
Individual Scores:  GHS-   Conner Taylor 40, Josh Bomgardner 49, Benton Parmley 52, Tyler Rodgers 52, Lathen Worman 54, Vincent Martoglio 59
West Vigo:  Baker 43, Joy 49, Seckinger 52, Higgins 54, Ingham 63, McCullough 68.
Coach Stephen Paquin Comments:  The Tiger Cubs hosted the Vikings of West Vigo at Tiger Pointe CC on Wednesday coming away with a 193 to 208 score.  Conner Taylor was medalist in the match with a good score of 40.  The weather was warm but very windy which led to the high scores by all players.  The Cubs were without Jaxon Parmley as he had a top 10% scholastic banquet to attend.  Without Jaxon the Cubs are a very young and inexperienced team.  Considering that inexperience all players hit some good shots, but everyone had too many shots that led to many bogeys, doubles, and triples.  Shot consistency is one the most important skills in order to be able to make pars and birdies.  This will come with range time and course time.  There is alot to learn this early in the season and it will take time for the young players to improve.  Tonight was a good starting point and we will look for that improvement with each match.
Next Match:  Sat. April 13 at Cascades GC in Bloomington for the Mustang Inv. at 11:00 am.