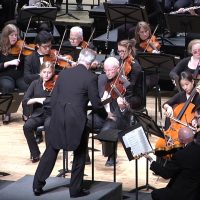 As fans of the Terre Haute Symphony Orchestra already know, there is no such thing as an "ordinary" THSO concert; not even an annual holiday concert.
True, Saturday night's program in Tilson Auditorium will feature the customary audience sing-along of carols, a Hanukkah medley and a rendition of "Sleigh Ride." But as an indication of that special twist Maestro David Bowden is giving to every THSO concert these days, this "Sleigh Ride" is the piece by British composer Frederick Delius, not the usual holiday fare by Leroy Anderson.
(Anderson devotees will not be shut out: his "Bugler's Holiday" kicks off the show.)
Even more out of the ordinary holiday pageant mode will be a medley of Christmas movie music – think "Polar Express" and "Miracle on 34th Street" – as well as a medley from the beloved 1990 film, "Home Alone," with a score by the prodigious American composer, John "Star Wars" Williams.
The night's featured artist, Justin John Moniz, will offer his own uncommon variation on a seasonal theme, tucked between the German version of "Silent Night" and the hymn, "O Holy Night." The tenor will sing one of the most beautiful songs ever written for the stage, "Bring Him Home," from "Les Miserables." Anyone who might wonder at its inclusion in a December holiday concert need only review the lyrics and imagine a young person, stationed far from family, and in harm's way.
Not yet 30, the versatile Moniz has sung more than 80 theater and opera roles around the globe, twice won the American Prize in Vocal Performance, holds four music degrees and currently serves as Coordinator of Vocal Studies at Milliken University in Decatur, Ill.
THSO's audience got a great look at his extraordinary talent in March during the sold-out concert of Beethoven's Ninth Symphony at Rose-Hulman's Hatfield Hall. Moniz joined the orchestra, three other soloists and Milliken's world-renown choir for that bravura performance.
Three Terre Haute Symphony musicians also are adding their special gifts to the eclectic holiday mix on Saturday night. Trumpeter, Eddie Ludema, will play the iconic theme from Masterpiece Theater. Newly-named Principal Cellist, SeungAh Hong, will play the Schubert "Ave Maria," and violist Dan Powers will premier his voice and orchestra arrangement of the Gustav Holst composition, "In The Bleak Midwinter" written especially for Justin Moniz.
"Dan's gift as an arranger is, he takes the nature of what he's arranging and makes it even more of what it is," said Bowden, the artistic and executive director of THSO. "Holst's piece is poignant, and Dan's arrangement intensifies the poignancy. He varies each 'stanza' of the music and the effect is just stunning."
Acquiring tickets for Saturday's 7:30 p.m. concert is in complete keeping with THSO tradition. They can be purchased through the Hulman Center box office, which is temporarily located in Tirey Hall T150 on the main floor, by calling (812) 237-3737, or in person, one hour before the performance at the Tilson box office on the campus of Indiana State University. The customary "Concert Conversations," with Bowden and a guest artist, begins at 6:45 p.m. in the Heritage Lounge of Tilson.