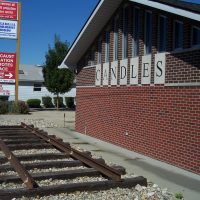 TERRE HAUTE, IN – #GivingTuesday is a global day of giving, powered by social media. Celebrated on the Tuesday after Thanksgiving (and following Black Friday and Cyber Monday), #GivingTuesday kicks off the charitable season, when many focus on their holiday and end-of-year giving. This year's #GivingTuesday will take place on November 27th and will kick off the giving season by inspiring people to collaborate and give back.
This year for #GivingTuesday, CANDLES will focus on raising funds for initiatives dedicated to educating students about the Holocaust. Donations received on #GivingTuesday will be designated for projects such as:
–        The Walter Sommers Education Fund, which provides much-needed support to offset costs of school field trips to CANDLES. Funds are applied toward transportation fees, substitute teacher stipends, and admission.
–       The CANDLES Student Scholarship Program, enabling young people to participate in CANDLES' annual summer tour of Auschwitz with survivor Eva Kor. There is no more effective way to teach about the consequences of hatred – and compassion – than to visit this site with a survivor and hear her story firsthand. It's an unforgettable experience for a student.
–        A classroom set of Surviving the Angel of Death, Eva Kor's beautifully told memoir, is written for student and adult audiences alike. Her life lessons of perseverance, compassion, and healing resonate with people of all ages. In receiving a classroom set of Eva's books, teachers can personalize the Holocaust and allow students to read Eva's story of tragedy, survival, overcoming hatred, and self-empowerment.
Join CANDLES' one-day #GivingTuesday efforts by donating on November 27th.
Facebook: https://www.facebook.com/candlesmuseum/
Twitter: https://twitter.com/candlesmuseum
CANDLES Holocaust Museum and Education Center