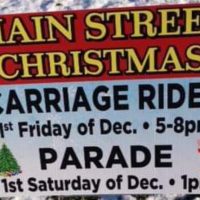 Cloverdale Community Clothe A Child is hosting its annual craft show and Just Desserts on Saturday, Dec 1st. The craft show starts at 9am and runs to 4pm, with a pet parade and pictures during the craft show at  Cloverdale High School.  The Just desserts program will begin at 4pm.

As part of the Full day of family fun in Cloverdale on Dec 1st, Cloverdale Main Street has its annual Christmas parade at 1pm, and kids can get pictures with Santa immediately following the parade at Santa's House, located across from the Cloverdale Township Fire Department.

The celebration continues the following Friday, Dec 7 with festive activities from 5 to 8 pm at the Cloverdale Town Hall and free carriage rides downtown.

The parade will be moved to December 8 in case of inclement weather.
Tags: