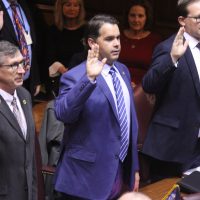 STATEHOUSE (Nov. 20, 2018) – Beau Baird of Greencastle took the oath of office today to serve as state representative for House District 44.
Indiana Supreme Court Chief Justice Loretta H. Rush administered the oath in the House Chamber of the Statehouse during Organization Day, the formal start to the legislative session.
"Taking the oath of office to represent House District 44 was an honor and I am thankful for the support from our community," Baird said. "I look forward to putting my finance experience to work as we begin the process of creating a balanced budget for Indiana and finding the state's priorities."
Baird serves as chair of the Putnam County Republican Party. He is the chief financial officer of Indiana Home Care Plus, which is a home health care agency. He also owns and Baird Ranch, one of the largest quarter horse breeders in Indiana, located a few miles outside Greencastle.