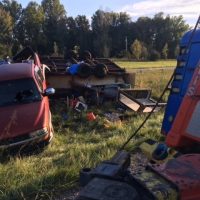 Putnam County—Last evening at 5:17, Indiana State Police and Putnam County emergency agencies responded to a rollover crash in the westbound lanes of Interstate 70 near the 38 mile marker.
Preliminary investigation revealed 54-year-old Dwight Norton of Huntsville, Arkansas was westbound in the passing lane, when his trailer reportedly began to swerve causing his 2001 Chevrolet pickup and trailer to leave the roadway and the trailer overturn.
Norton was taken to Putnam County Hospital for treatment of back pain. Norton was cited for no valid driver's license and no vehicle insurance.
The crash was investigated by ISP Trooper David Cox Jr. Assisting were troopers Justin Bell, David Petrowski, Courtland Woodruff, and Ian Portteus, Cloverdale Police, Cloverdale Fire/Rescue, Putnam County Operation Life, and Curtis Wrecker Service.