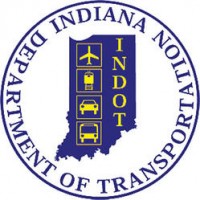 SPENCER, Ind.—Indiana Department of Transportation's contractor plans to place the surface lift of asphalt pavement on State Road 46 at Spencer beginning tomorrow (OCT 2), weather permitting.
Paving operations are slated to start near Fairview Avenue in the closed eastbound-lane section of Morgan Street—and proceed westward.  The open eastbound/south-side lane between Main Street and the project's west terminus at the U.S. 231/S.R. 67 split will be closed.
Morgan Street's westbound/north-side lane is scheduled to receive its surface pavement—a premium grade Stone Matrix Asphalt (SMA) mix—on Wednesday (OCT 3), weather permitting.  Westbound traffic will be diverted to S.R. 46's newly finished lane on the south side.
Street and drive approaches will be paved once mainline operations have been completed.
INDOT officials say project focus turns to Franklin Street in mid-October.  The eastbound detour route will be repaired, milled and resurfaced.
Milestone is the state's contractor for this $8 million reconstruction project on S.R. 46.  Work has included:
Full-depth pavement replacement
Drainage improvements including new storm sewers
New sanitary sewers
New water main and laterals
New sidewalks with curbs and defined driveway cuts
ADA-compliant curb ramps
New traffic signals at U.S. 231, Main Street and the U.S. 231/S.R. 67 west-side split
Coordination with Spencer's ornamental street lighting project