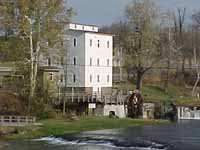 Visit the Historic Mansfield Roller Mill from Oct. 12 through Oct. 21 to enhance your experience during the Parke County Covered Bridge Festival.
Starting the second Friday of October each year, Parke County comes to life with tens of thousands of visitors to enjoy the cool autumn weather and historic covered bridges. The Historic Mansfield Roller Mill will be open for tours and special demonstrations of original 1880s flour- milling equipment. Come out and enjoy a beautiful autumn in Indiana and experience a festival like you've never seen before.
The Historic Mansfield Roller Mill is managed by Raccoon State Recreation Area.
Mansfield Roller Mill (stateparks.IN.gov/3262.htm) is at 6089 South Mill Road, Mansfield, 47872.