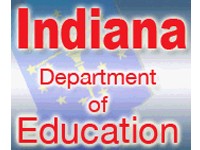 INDIANAPOLIS – The Indiana Department of Education today congratulates the Indiana recipients of the U.S. Department of Education's (USDOE) Blue Ribbon Schools Award.
"Creating an educational environment founded on a commitment to academic excellence supports success in the classroom," said Dr. Jennifer McCormick, Indiana Superintendent of Public Instruction. "I am grateful for our dedicated educators who challenge students to reach their full potential, and I want to congratulate Indiana's Blue Ribbon Schools for performing at the highest level."
Created in 1982, the Blue Ribbon Schools Program honors public and private elementary, middle, and high schools that are either high-performing or have improved student achievement – especially among disadvantaged students. Each year, USDOE awards schools whose students attain and maintain academic excellence. The Blue Ribbon program is part of a larger national effort to identify and disseminate knowledge about best school leadership and teaching practices. In November, USDOE will hold a reception in the nation's capital to formally recognize the awarded schools.
The following schools are Indiana recipients of the 2018 Blue Ribbon Schools Award:
Cascade Senior High School – Mill Creek Community School Corporation
George Bibich Elementary School – Lake Central School Corporation
Paramount Brookside – Charter School
Reagan Elementary School – Brownsburg Community School Corporation
Solon Robinson Elementary School – Crown Point Community School Corporation
Staunton Elementary School – Clay Community Schools
Thomas Jefferson Elementary School – Valparaiso Community Schools
On Tuesday, October 2, Superintendent Dr. Jennifer McCormick will honor Indiana's 2018 Blue Ribbon Schools at a Statehouse celebration.
WHAT:
Blue Ribbon Schools Celebration
WHEN:
Tuesday, October 2, 2018
LOCATION:
Indiana Statehouse – North Atrium
Indianapolis, IN 46204
TIME:
10 – 11:30 a.m. ET