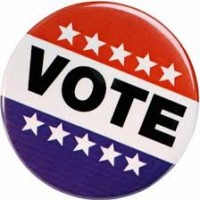 THE PUTNAM COUNTY ABSENTEE VOTER BOARD WILL BE AVAILABLE FOR THE PURPOSE OF ABSENTEE (EARLY) VOTING FOR THE NOVEMBER 6, 2018 PRIMARY ELECTION FROM WEDNESDAY, OCTOBER 10, 2018, TO MONDAY, NOVEMBER 5, 2018, AT NOON.
ANY PUTNAM COUNTY REGISTERED VOTER MAY VOTE AT THE PUTNAM COUNTY COURTHOUSE, ON THE SECOND FLOOR, MONDAY THROUGH FRIDAY, BETWEEN THE HOURS OF 8:30 A.M. AND 4:00 P.M. THE COURTHOUSE WILL ALSO BE OPEN FOR ABSENTEE (EARLY) VOTING ON SATURDAY, OCTOBER 27, 2018, AND SATURDAY, NOVEMBER 3, 2018, BETWEEN THE HOURS OF 8:00 A.M. TO 3:00 P.M.
A VOTER MUST PROVIDE A GOVERNMENT-ISSUED PHOTO ID BEFORE CASTING AN ABSENTEE BALLOT IN-PERSONAT THE CLERK'S OFFICE OR VOTING IN-PERSON AT THE POLLS ON ELECTION DAY. THE ID MUST FIT THE FOLLOWING CRITERIA :
YOUR ID MUST DISPLAY YOUR
YOUR NAME ON THE ID MUST CONFORM TO YOUR VOTER REGISTRATION RECORD. (CONFORM DOES NOT MEAN IDENTICAL)
YOUR ID MUST CONTAIN AN EXPIRATION DATE AND EITHER STILL BE CURRENT OR HAVE EXPIRED SOME TIME AFTER NOVEMBER 8, 2016 (THE LAST GENERAL ELECTION DAY).
YOUR ID MUST BE ISSUED BY THE STATE OF INDIANA OR THE US
ANY PERSON REQUIRING AN ABSENTEE BALLOT TO BE MAILED TO THEM IN-COUNTY, OUT-OF-COUNTY OR OUT-OF­ STATE MUST COMPLETE AN APPLICATION FOR AN ABSENTEE BALLOT. THIS FORM IS AVAILABLE AT THE VOTER REGISTRATION OFFICE OR MAY BE DOWNLOADED FROM THE
INDIANA ELECTION DIVISION WEBSITE (www.in.gov/sos/elections/) AND MUST BE FILED BEFORE THE BALLOT CAN BE MAILED. THE DEADLINE FOR VOTER REGISTRATION TO RECEIVE THE APPLICATION FOR A MAIL-IN ABSENTEE BALLOT IS MONDAY, OCTOBER 29, 2018 BY MIDNIGHT.
FOR THOSE INDIVIDUALS CONFINED TO THEIR HOME DUE TO ILLNESS, INJURY OR A HANDICAP, A REQUEST MAY BE MADE THAT THE BALLOT BE MAILED TO THEM OR BE BROUGHT TO THEIR HOME BY A TRAVELING BOARD.
A VOTER WISHING TO VOTE BY MAIL OR TRAVELING BOARD DOES NOT HAVE TO COMPLY WITH THE PHOTO ID LAW. TO REQUEST AN ABSENTEE BALLOT APPLICATION PLEASE CONTACT VOTER REGISTRATION AT 655-1538.
THE DEADLINE TO REGISTER TO VOTE IS OCTOBER 9, 2018.