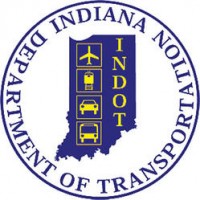 HENDRICKS COUNTY, Ind. – The Indiana Department of Transportation (INDOT) announces there will be overnight ramp closures on I-74 in Hendricks County beginning next week, Monday, September 24, weather permitting.  The contractor plans to begin in the westbound lanes.  Please note the closures will not begin until 9 p.m. and will reopen by 6 a.m.
Dynamic message boards will be utilized during these closures to alert motorists of the exact ramp being paved.
·            I-74 westbound exit ramp to State Road 39 (Exit 58)
·            The State Road 39 on ramp to westbound I-74 (Exit 58)
·            The entrance to the I-74 westbound rest area ( near the 56 mile marker)
This project was awarded to Rieth-Riley Construction for $11.2 million. This project will resurface I-74 from approximately five miles east of State Road 32 or the 44 mile marker to just east of the Lizton Exit 58 and overlay six bridges.
I-74 is restricted to one 11' lane in each direction. The resurface and bridge work on I-74 will be primarily finished by November 15 of this year.
NDOT reminds motorists to follow the posted work zone speed limit, use caution and consider worker safety when traveling through a construction zone.