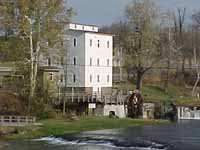 The Mansfield Mill, in partnership with Mansfield Parke Management, will be holding an end of summer celebration with the Mansfield Mill Cornbread Festival from 10 a.m. to 5 p.m. on Saturday, Sept. 8.
Several local vendors will be selling their wares out of the Red Barn across the street from the Mansfield Mill starting at 10 a.m. Volunteers from Raccoon Lake will be selling a beans-and- cornbread dinner outside the mill, starting at 11a.m., until supplies last.
Other activities going on throughout the day include: Candle Making Workshop (Mansfield Mill), Gold Panning & Rare Gem Mining (Red Barn), Canvas Paint Party (Red Barn) and Tours of the Mill (Mansfield Mill).
Attendees will also have an opportunity to see the old mill in operation.

The Historic Mansfield Roller Mill is managed by Raccoon State Recreation Area and is located six miles south of U.S. 36, off State Road 59 in Mansfield.
Mansfield Roller Mill (stateparks.IN.gov/3262.htm) is at 6089 South Mill Road, Mansfield, 47872.