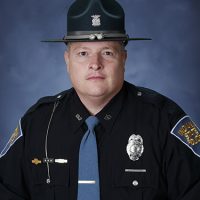 On August 27, 2018, Indiana State Police Superintendent Douglas G. Carter announced the reclassification of Master Trooper Jason M. Schoffstall to the position of detective. Detective Schoffstall attained his new criminal investigation position through written testing and a competitive interview process. He now joins a compliment of one investigations commander, one field investigations supervisor, seven detectives, two crime scene investigators, and one cybercrime investigator within the Criminal Investigation Division of the Putnamville District. Schoffstall will primarily work criminal investigations in Putnam County.
Detective Schoffstall graduated from the Indiana State Police 56th Recruit Class in 1998 and was initially assigned to the Lafayette District where he patrolled Benton County. Two years later, he transferred to the former Terre Haute Post and patrolled Vigo County. Schoffstall remained in road patrol throughout his time at Terre Haute, the merger with Putnamville District in 2010, and until attaining this detective position.
Schoffstall is a 1993 graduate of Terre Haute North High School and attended Indiana State University. He is married with three children and the family resides in Vigo County. He and his wife are also grandparents to a granddaughter.
"During his tenure as a trooper, Detective Schoffstall has developed attributes that we feel would be a welcomed addition to our investigative team", commented First Sergeant Jason Fajt, Commander of Criminal Investigations at the Putnamville Post.
The Putnamville District is comprised of Parke, Vermillion, Clay, Putnam, Vigo, and Sullivan counties.