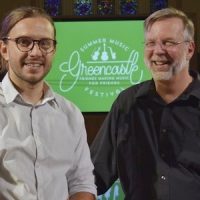 The Greencastle Summer Music Festival ended its 2018 season on August 15th with a stunning performance featuring pianist May Phang, clarinetist Randy Salman, and cellist/festival founder Eric Edberg. The evening concluded twelve weeks of concerts featuring "friends making music for friends" and was described by many as "the best season yet"; setting the bar high for next year's 15th anniversary of the festival's founding (a challenge happily accepted!)
"I am so proud of how this season unfolded. We welcomed the return of so many friends to our festival, including the likes of Tad Robinson, Silkroad's Global Musician Workshop, Joy Ike, Taka Kigawa, John Kamfonas, Nicole Brockmann, Tarn Travers, Claude Cymerman, Percussion Ensemble DePauw, and Steve Snyder. We also made new friends, such as violist Jessica Meyer, members of Sybarite5, viola da gambist Brady Lanier, and pianist Daniel Inamorato," says Chris Flegal, the festival's Executive Director.
"It is wonderful to hear positive feedback about our festival's season. We have a fantastic family of supporters who care deeply about what we do. I'm very excited for what is in store for next year!"
The festival once again surpassed its annual fundraising goal of $16,000.00 with a total of $16,344.51 by the end of the August 15 performance. These funds go directly to support the festival's operating expenses and help sustain the festival for years to come. GSMF wishes to thank all who have contributed to our festival over the years.