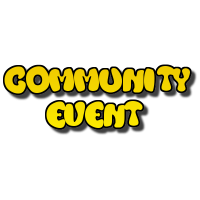 Is it a bird? Is it a plane? No, it's UNSTOPPABLE MAN! And he will be soaring into the hearts and minds of our elementary students with an empowering Super Hero message!
Best of all, we would like to extend an open invitation for all parents of elementary students to attend. Don't miss this once-in-a-lifetime event! Come see your child be inspired to be UNSTOPPABLE!
Unstoppable Man, a.k.a. Craig Conrad, and his remarkable true stories, have been featured on ABC, NBC Nightly News, and CBS The Early Show. Craig was also the host of the nationally syndicated television series, Wyoming's Call of the Wild.
Come experience the excitement with all of us! Craig's program will reinforce many of the lessons you are trying to instill in your kids, plus it will give you lots to talk about.
Afterwards, Craig will be autographing copies of his inspiring book, UNSTOPPABLE! for you and your little Super Hero. This book is a treasure trove of true stories with priceless lessons. So, long after Unstoppable Man flies out of town, you can continue to share and reinforce the "Refuse to be Average…Choose to be Unstoppable!" message with your entire family.
Because this is Super Hero Day, we want to encourage all students, staff, and parents to dress up as your favorite Super Hero, or create your own "Hero." This promises to be fun and exciting! Don't miss out… Be a Super Hero… Be Unstoppable!
UNSTOPPABLE MAN PROGRAM K-6
PLACE: Cloverdale Elementary School
TIME:  1:00pm
DATE:  August 30th, 2018
Craig will be having an encore event for the entire community, if you cannot attend Super Hero day. This is our way of thanking our wonderful community for all of its support!
COMMUNITY EVENT PROGRAM
PLACE: Cloverdale High School
TIME: 6:00pm Dinner and Program 6:30-8:00pm
DATE:  August 30th , 2018
Both programs are entertaining, captivating, and completely different, so come to both! You will leave feeling inspired and Unstoppable!