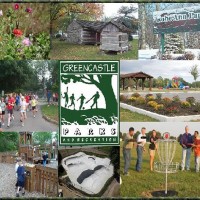 With the kids starting school, it's time for the "Fall Softball Call!" Greencastle Parks and Recreation is issuing a call for teams for the upcoming Fall Coed Softball League!
Fall Coed Softball League
Extended Entry Deadline: 4:00 p.m., Friday, August 17, 2018
Rescheduled Captain's Meeting: Monday, August 20, 2018 at 6:00 p.m. in Shelter #5 (North of ball field in Robe-Ann Park)
Opening Night: Monday, August 27, 2018
Entry Fee: $440.00/Team
Team Limit: First 12 teams with paid registration
Season-End Awards: TBA
To register a team, please complete the registration form and a tentative roster and then return it to the Greencastle Parks and Rec office in City Hall with your team's registration entry fee by the stated deadline. Also, new this year is the ability to pay your fee on-line using a credit card. This information may be found on www.greencastleparks.com .
If you have questions, please contact Rod Weinschenk (as soon as possible). Team captains will be notified by a phone call in regards to the schedule and the first scheduled games.
Rod Weinschenk, Director
Greencastle Parks & Recreation Department
(765) 653-3395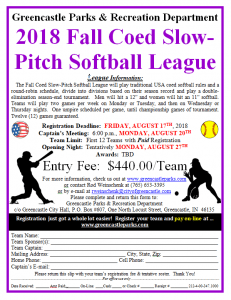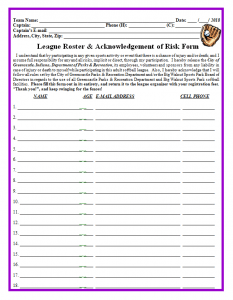 Tags: