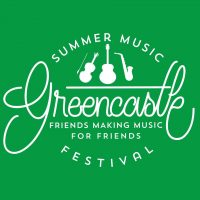 Please join us on Wednesday, June 13 at 7:30pm, as the Greencastle Summer Music Fest welcomes Percussion Group DePauw. The members of Percussion Group DePauw are professional percussionists who either work, have graduated, or are current percussion major students at DePauw University.
The group formed when Ming-Hui Kuo and Ben Hogan joined the Greencastle Summer Music Fest
concert series in 2017. Percussion Group DePauw performs various styles of music from classical percussion literature, electronic music, to modern jazz-influenced compositions; from solo to ensemble music. This year, they are going to perform works by Tobias Brostrom, Steve Reich, Ney Rosauro, Casey Cangelosi, Carlos Passeggi, Eric Sammut, Dorival Caymmi, and Emmanuel Sejourne.
BIG THANKS to Tad Robinson, GSMF's season-opening guest artists, who took time out of his schedule to speak with the Summer Enrichment kids last week. During the presentation, kids learned about blues music, the harmonica, and how music is used to express emotions. Every week through the month of June, GSMF partners with the Summer Enrichment Program to provide free music workshops to the children.