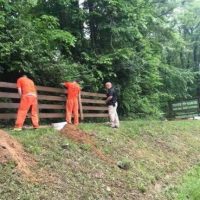 Local inmate workers seemed to "enjoy doing chores" recently at the nearby Indiana Sheriffs' Youth Ranch and have asked to return for other one-day projects, said Putnam County Sheriff Scott Stockton.
 As a board member on the statewide not-for-profit camp under development for future law enforcement officers and at-risk kids, Stockton helped coordinate a project to design, erect and stain the first phase of decorative and safety fencing at the Youth Ranch.  
 "Putnam County's eight inmates selected for last week's project were all non-violent offenders and guarded by merit and reserve deputies from our department and neighboring Clay County, where the Youth Ranch is being developed," Stockton said.
 Clay County Sheriff Paul Harden said the visiting inmates were "both quick and thorough" in staining nearly 300 linear feet of four-board horse fence. "One inmate's roller was applying the first coat before materials could even be distributed among the others. Despite the heat and humidity, I believe they applied three complete coats of Sherwin-Williams stain."  
 Much of the lumber for the fencing was provided by Pingleton Sawmill near Greencastle. Labor to design and erect the fence was donated by TJ Fencing of Center Point, Ind. Other costs like posts, concrete and hardware were funded by Les and Anna Zimmerman of Clinton, Ind., who Vermillion County Sheriff Mike Phelps connected with Youth Ranch organizers.
 "For 39 years, sheriffs and deputies have hosted Youth Leadership Camps for future deputies. In the late 1980s and early 1990s, as law enforcement focused more on crime prevention and community policing, an emphasis on at-risk kids was added. The Indiana Sheriffs' Youth Ranch will be the permanent home for these camps, as well as weekend retreats for young witnesses, victims and survivors of crime – including sons and daughters of fallen officers," Phelps said. 
 To donate, volunteer or learn more about the Youth Ranch, call toll-free to 833-IN-RANCH or log onto www.SheriffsYouthRanch.org.