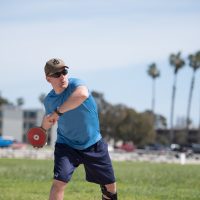 U.S. Navy Engineman, Chief Petty Officer Matthew Parker of Rockville, Indiana will join more than 250 seriously wounded, ill and injured service members and veterans at the 2018 Department of Defense (DOD) Warrior Games June 1 – 9 at the United States Air Force Academy in Colorado Springs, Colorado.
Parker will be competing against athletes from the Army, Marine Corps, Navy, Coast Guard, Air Force, Special Operations Command (SOCOM), Australia, Canada and the United Kingdom.
During the nine days of competition Parker will compete in field, cycling, sitting volleyball, and swimming.
"Our Navy Wounded Warrior athletes have shown incredible resiliency in their personal roads to recovery through Commander, Navy Installations Command (CNIC)'s Adaptive Sports Program. The actions of these athletes demonstrate the Navy's core attributes of integrity, accountability, initiative and toughness," said Vice Adm. Mary Jackson, Commander, Navy Installations Command.
The Chief of Naval Operations (CNO) has said that we will remain the world's finest Navy only if we all fight each and every minute to get better', there is no better example of this performance than what our Sailors and Coast Guardsmen in the Navy Wounded Warrior Program do each and every day."
Parker was selected for team Navy after the competitive Wounded Warrior Trials in February at Naval Station Mayport in Mayport, Florida. Team Navy includes service members and veterans with upper-body, lower-body, and spinal cord injuries; traumatic brain injuries; visual impairment; serious illnesses; and post-traumatic stress.
These games provide an opportunity for athletes to grow physically, mentally and spiritually from the sportsmanship and camaraderie gained by representing their respective service teams in a friendly and spirited competition. It is an opportunity for athletes to showcase their enduring warrior spirit in the presence of their families and grateful nation.
The Navy honors the sacrifices of wounded warriors from the Navy and Coast Guard by providing them top-notch non-medical support through Navy Wounded Warrior (NWW) – Safe Harbor. All enrollees in NWW are encouraged to make athletics a key component of their recovery efforts. By promoting wounded warrior participation in competitions like the DOD Warrior Games, NWW helps enrollees heal through adaptive sports.