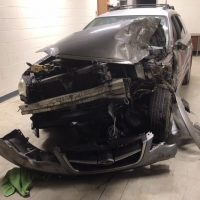 Last night at 7:16, the Putnam County Sheriff's Office received a 911 call reporting a multi-vehicle crash involving a pedestrian near 3037 South US 231, south of Greencastle. Putnam County Sheriff's Office initially responded, but relinquished the crash investigation to the Indiana State Police.
Preliminary investigation revealed a flagger was stopping southbound traffic near the address for pavement resurfacing. A 2008 Ford F150 stopped for the flagger, as did a 1995 Ford Crown Victoria. A third vehicle, 2008 Subaru Outback, failed to stop, sideswiped the Crown Victoria, struck the Ford F150 and lastly, struck the flagger.
The flagger, Danny K. Harrington, age 53, of Terre Haute, IN. was critically injured and airlifted by StatFlight to St. Vincent's Hospital in Indianapolis for treatment. Harrington works for Wabash Valley Asphalt.
The driver of the Subaru Outback was 52-year-old Jessie D. Parks of Cloverdale, IN. She complained of pain and was treated/released from Putnam County Hospital. Preliminary toxicology results indicated positive for marijuana and a BAC of .10%. She was incarcerated in the Putnam County Jail, on various charges, following the investigation with ISP. Alcoholic beverage containers were visible inside her car.
Driver of the Ford 150 was 52-year-old Robert D. Kennedy Jr. of West Terre Haute, IN. He was not injured or cited. Driver of the Crown Victoria was 73-year-old Murrell E. Pearson of Fairland, IN. He was not injured or cited.
US 231 was closed following the crash and reopened at 10:48p.m.