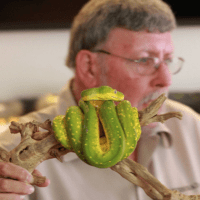 Get up close and personal with spectacular snakes as Snakehead Ed brings species from all over the world to Kids Club at the Putnam County Museum, 1105 North Jackson Street, Greencastle.  Saturday, April 21, at 11:00 a.m., the museum will welcome Snakehead Ed Ferrer and his program Snakes Alive and More.
This educational show, perfect for kids of all ages, will include a discussion on recognizing
​the ​many beneficial snakes of Indiana, the fantastic nature of snakes, and snakes to avoid!  There will be an opportunity to volunteer for a hands on experience! Ferrer is a retired, award-winning middle school science teacher. He used animals in his science class to engage his students in science and nature.  The students' favorite animals were  ​Ferrer's​ large collection of snakes which they often handled and helped care for.  After 30 years of teaching, ​Ferrer now offers unique, "close encounter" interactive snake programs​ to the public
.​The Museum, which is accessible and has plenty of free parking, opens at 10:00 a.m.  This program starts at 11:00and is free and open to the public.  For more information call the Museum at 765 653-8419 or email info@putnamcountymuseum.org.​