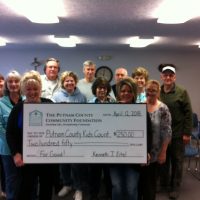 The Putnam County Community Foundation has a mini-grant program whereby 10 board members select a Putnam County nonprofit organization that models the Community Foundation's mission "enrich the quality of life and strengthen community for this and future generations."  These nonprofits receive a $250 grant that are ultimately made possible thanks to generous donors to Foundation endowments.
Putnam County Kids Count (PCKC) was selected for a mini-grant by Community Foundation board member Jeff Blaydes.  The mission of PCKC is to help each child reach full potential by advocating a virtuous life.  Through the summer enrichment camp and various community outreach programs PCKC provides meaningful resources to disadvantaged children in Putnam County. Putnam County Kids Count works diligently to empower children to be successful in both school and their community.
Since 2009, Cindy Huddleston has overseen a group of dedicated individuals whose desire is to enrich the lives of Putnam County youngsters.  This group works year-round raising money and organizing events that cater to Putnam County kids in grades K through 8.  This effort has been supported by Canaan Church Pastor Kevin Thompson, Putnam County Sheriff Scott Stockton, the Indianapolis Colts and many other notable organizations.
Putnam County Kids Count offers a one-week summer enrichment camp to Putnam County children.  The PCKC summer enrichment camp teaches children the value of good character through the use of character words such as Kindness, Respect, Accountability, Responsibility, and Preservation.  Throughout the week-long camp, these words are supported by numerous activities such as trust exercises, team building exercises, speakers, art activities, singing, and sporting events.  The PCKC day camp serves 150 children with 20 staff members and over 40 volunteers who assist in this effort.
Many families cannot afford to send their children to camp, PCKC helps offset the costs.  PCKC partners with Heritage Lake POA, local churches to promote good character skills, the Putnam County Sheriff and the Sheriff's Department to build bonding relationships between law enforcement officers and the kids.  The Putnam County Community Foundation is proud to recognize and partner with Cindy Huddleston and her organization, PCKC, with this mini-grant.