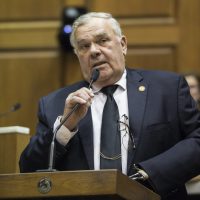 State Rep. Jim Baird's (R-Greencastle) proposal ensuring sailors serving on the USS Indiana (SSN-789) are eligible for in-state college tuition rates by making them honorary residents may soon be law.
The USS Indiana is a United States Navy Virginia-class attack submarine that was christened in April and will be commissioned into service later this year.
"There are more than 100 Hoosier companies contributing materials for the ship, so Indiana is well represented on the submarine," Baird said. "It is the first Naval vessel to be the state's namesake since 1947. It has been a pleasure to be involved in this process."
Baird said the men and women serving for 180 days on the submarine could be eligible for in-state tuition rates when attending state colleges or universities. The sailors would have four years from the beginning of his or her coursework to complete a degree at the in-state rate.
Most fast attack submarines, like the USS Indiana, have a crew size of about 115 individuals who are from all over the United States. Baird said this proposal does not include eligibility for state student assistance.
House Enrolled Act 1242 now advances to the governor for consideration as a new law. To learn more about this legislation, visit iga.in.gov.