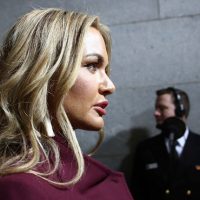 Donald Trump Jr.'s wife opened an envelope that contained white powder according to New York Police.  Vanessa Trump was taken to the hospital after feeling ill shortly after.
Police say that Vanessa Trump was coughing and felt nauseous after opening the letter addressed to Donald Trump Jr. at their midtown Manhattan apartment.
Detectives from the New York Police Department's intelligence division and Secret Service agents are investigating.