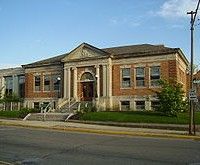 Join impacted community members and health professionals on Wednesday, January 31st, from 6:00 to 8:00 PM at the Putnam County Public Library for a panel discussion on the opioid and substance use issues facing Putnam County today.
Opioids are the #1 killer in our Nation today! One Hundred and forty-four people will die today from a drug overdose. But what can we do to help? Join us on the 31st to learn more.
Panelists include Danielle Cummings, MA, LMFT-A Clinical therapist at Hamilton Center, Matrix drug and alcohol group facilitator; Alicia Suarez, Associate Professor Department of Sociology and Anthropology, Director of Women's, Gender, and Sexuality Studies, DePauw University; Janice Wilson-Dobbs, Recovering Addict and mother who lost a child to an overdose, Nurse, Substance Use Awareness and Education Advocate; Angelica Williams, B.S.  GROUPS Clinic Coordinator; Amanda Barge, Monroe County Commissioner District 3; Brandon Drake, Co-Director at Courage to Change Sober Living intervention specialist, sober coach, founder CEO and treatment consultant at Keystone Interventions Group & Treatment Consulting; Sheila Holloway, mother, sister, and cousin of those with substance use disorders, Founder of Prescription for Life, Substance use Awareness and Education Advocate; and Karen Martoglio, Executive Director, Mental Health America of Putnam County.