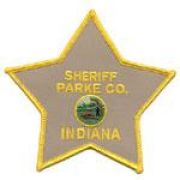 This morning, around 4:30am, Parke County Deputies were dispatched to a possible accident near Coxville Rd & US Hwy 41. While responding, Deputies located a car driving northbound with heavy front end damage.
Deputies stopped the car near CR 200 W on US Hwy 41. Deputies identified Eric Wilson (35) of Rockville as the driver of the vehicle. During the investigation, three separate accident locations were found by Rockville Police, one near the Lyford Y and another one in Snake Hollow. Eric was arrested and formally charged with OVWI greater than
.15% and Leaving the scene of a property damage accident.  Eric was transported to the Parke County Jail. His
bond was set at 8,000 with 10% acc.