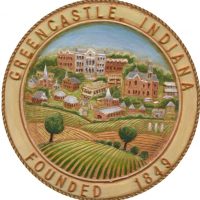 On 1-11-18 Greencastle Common Council held its 1st regular meeting of 2018.  Greencastle Boy Scout Evan Harris led all in attendance in the Pledge of Allegiance.  Mayor Bill Dory introduced Greencastles new City Planner, Scott Zimmerman.  Zimmerman expressed his excitement to be returning to Greencastle and his readiness to take on the role as City Planner.  Council member Adam Cohen was also voted as Council President for another term.  The Council also voted to keep council meetings on the 2nd Thursday of each month at 7 p.m.
During the Common Council Meeting Thursday night, Greencastle Parks and Recreation director Rod Weinschenk reported that a basketball goal in Big Walnut Sports park was vandalized in late December.  It appears that a rock had been thrown through the backboard and may cost as much as $1,000 to replace.  Anyone with any information regarding this incident is encouraged to contact the Parks dept or the Greencastle Police.
Greencastle Police Chief Thomas Sutherlin reported that Greencastle police made 34 arrest in 2017 for possession of Methamphetamine.  That is an increase from the 17 arrest in 2015 for the same offense.  There have also been 35 drug related arrest made with the assistance of Caine, Greencastles only K9.  Sutherlin commended Greencastle Police for their great work and stresses that they will remain diligent in their efforts.
Mayor Bill Dory expressed his gratitude and appreciation for the Police Dept., Fire and emergency crews, utility workers and local contractors for their work during the recent extreme cold temperatures.  The Greencastle Common Council echoed the same sentiment during Thursdays common council meeting.