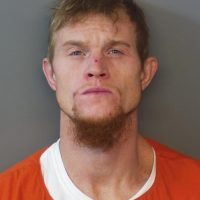 From December 31st 2017 until January 6th 2018, Hendricks County deputies responded to multiple reports of theft from vehicles near Avon. Twenty four vehicles were reportedly either left unlocked and entered or entry was forced by smashing out windows. A total of 9 guns were reported stolen in addition to wallets, purses, electronic items, clothes, cash, checkbooks, and gift cards. The thefts occurred in the overnight hours in the Hidden Valley, Auburn Meadows, Bridgewater, Village Oaks, Royal Troon, and Prestwick Estates neighborhoods.
Through information provided by observant residents in the area, combined with surveillance video, detectives obtained a search warrant for a residence on Orange St. in Indianapolis where they recovered some of the stolen items. The suspect, who was identified as Alan M. Hawkins, 34, of Indianapolis has been arrested and taken to the Hendricks County Jail for multiple counts of Theft, Criminal Mischief, and Unlawful Entry of a Vehicle. Additional charges are likely to be filed as the case is reviewed further.
If any victims in these cases have surveillance video or additional information that they have not yet turned over to detectives, they are asking that you contact Det. Sgt. Charlie Tyree at 317.745.9354.