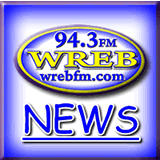 INDIANAPOLIS — An Indiana state senator wants sexual assault victims to have a system that would allow them to track the status of their rape kit.
State Senator Michael Crider (R-Greenfield) is the author of Senate Bill 264, which would require the state's sexual assault response team to prepare a report regarding "the feasibility of creating a kit-tracking and testing database," as well as possible sources of funding for the database.
According to the non-profit group End the Backlog, a program of the Joyful Heart Foundation, Indiana has more than 4,900 rape kits awaiting testing – placing its backlog as the 10th largest in the nation.
Crider says his own audit found 5,396 untested rape kits. That, he says, isn't acceptable – which is why he wants a system to track them.
"I'm hoping that the victims will feel like that when is collected it's going to be processed, and if they have a question about it that they'll be able to call in and see, 'Has it been submitted to the lab? Is there a reason why it wasn't submitted to the lab?'" Crider said. "That should give them a little bit more confidence in the system, and also a peace of mind."
Crider is joined in the push by the Indiana Coalition to End Sexual Assault, and by Kirat Sandhu, the group's training coordinator and herself a survivor of childhood sexual assault.
"It's the ultimate violation of your body, of the space that is supposed to be sacred," Sandhu said. "It's something that takes a lot of years to get over, to heal from."
The process of completing the kit is in itself traumatizing. Investigators perform internal exams and take hair and bodily fluid samples. It often takes four-to-five hours – and then results in a kit that sits on a shelf somewhere. Even worse, according to Tracey Horth Krueger, CEO of the Indiana Coalition to End Sexual Violence, is it's not always clear why nothing happens to the kit.
"Clearly, the majority of kits that do not move forward… the reason is unknown," Krueger said. "We don't know what's behind that awful number. And that, to me, is unbelievably horrific for a person who has endured a four-to-five hour invasive medical exam after they have been violated in the most unimaginable way – and then to not have anything happen to their kit. So we are re-victimizing people who have already gone through such a horrific crime."
Once the kit is collected, sexual assault survivors are often asked to play the waiting game for months or even years, with little information available. Having a system that would allow them to check on the status of the kit would go a long way toward easing that waiting, Sandhu said.
"It gives back some small semblance of control in a very chaotic situation," she said.
If voted into law, Crider's bill would task the state's sexual assault response team with completing its report by Dec. 1, 2018. The bill was referred to the Indiana Senate Committee on Public Policy on Monday following an initial reading.