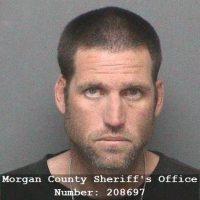 A Indiana State Trooper looking beyond a routine traffic stop yesterday afternoon in Morgan County was able to stop a large shipment of alleged marijuana from arriving to its destination on the east coast.
Around 12:50 p.m. a trooper with the Indiana State Police Drug Enforcement Uniform Squad was patrolling I-70 EB at the 51mm (Little Point exit) and stopped a 2017 box truck for a traffic violation.
While speaking with the driver, Joshua Monte Wilson, 28, of Temecula, CA. the trooper noted inconsistencies that indicated possible criminal activity. A search was conducted which resulted in the seizure of 240 pounds of marijuana, 11.5 pounds of THC oil, and two pounds of THC wax.
Wilson was arrested for Level V Dealing and Possession of Marijuana, over 10 pounds. He was incarcerated in the Morgan County Jail without incident.