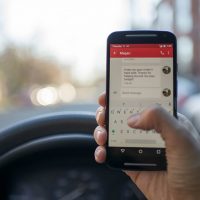 STATEHOUSE — Jeffersonville Republican Ron Grooms has written a bill aiming to crack down on distracted driving.
In the bill, the state senator hopes to redefine the term "telecommunications device" to include wireless devices such as a blue-tooth headset or system for your phone, which allows you to make phone calls without picking up your phone. It would also include "personal digital assistants" such as a GPS or Garmin.
The bill does not include amateur radios installed in vehicles that are owned by FCC licensed radio operators. This also extends to "communication systems" in commercial vehicles weighing over 10,000 lbs (i.e CB radios in semi trucks).
The bill would only allow you to make use a hands free device to make a call while driving if you are calling 911 for a "bone fide emergency." Otherwise, the bill makes it a Level 5 felony if you are caught using a wireless device while driving, which is punishable by 1-to-6-years in jail.
If passed by the General Assembly, it would not take affect until July 1st of this year.
(Courtesy Network Indiana)