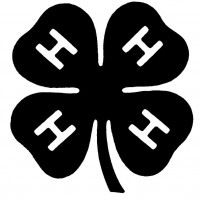 Indiana online 4-H enrollment has been open in Putnam County since October 1 and remains open through January 15 for all projects to be available. 4-H is a premier source of enjoyable, educational programs to help youth reach their full potential. Enrollment is easier than ever with the 4-H Online system, https://in.4honline.com as one may also use a hand held or tablet device. Moreover, for those previously enrolled, you will find the info already rolled over to quickly edit and accept personal information from last year's enrollment.
New to 4-H and asking what is a "project" often referenced by 4-H? Putnam County has nearly 75 project and activities one can complete. A project simply references a topic that one wants to study or complete associated activities and ultimately show off what was learned through accomplishments via an exhibit at the county fair. Every project can be associated with a life skill and/or a career.
Indiana 4-H is the state's largest youth development program for grades 3-12, reaching over 200,000 youth in all 92 counties. 4-H Youth Development Educators in each Purdue Extension county office coordinate local activities.
In Putnam County, approved adult volunteers teach young people specific skills related to a wide variety of subjects through hands-on, experiential learning. Youth also develop leadership and citizenship skills by participating in one or more of Putnam County's thirty plus organized 4-H Clubs. Subjects include: science, technology, engineering, and math (STEM); agriculture; citizenship; healthy living; art; consumer and family sciences; and more. In 2013, a Tufts University study showed that 4-H members also excel in positive youth development areas compared to peers, including:
Four times more likely to contribute to their communities (grades 7-12)
Two times more likely to make healthier choices (grade 7)
Two times more likely to be civically active (grades 8-12)
Two times more likely to participate in extracurricular STEM programs (grades 10-12)
Now, the new 4-H Online system makes it even more convenient to offer enrollment, event registration, calendars, and secure payment online.
The January 15 enrollment window is to enroll the child online at https://in.4honline.com or by visiting the Purdue Extension Putnam County office located at the street address of 152 East Columbia from 8 a.m. to 5 p.m. Monday-Thursday and 8 a.m. to 4 p.m. on Friday. The office closes for lunch on the noon hour except remains open on Tuesday and Thursday. One may also mail payment to Purdue Extension Putnam County, 12 Central Square, Greencastle, IN 46135. Please reference the child(ren) names in the reference area of the check. There is a $25 program fee per child which includes the $15 Indiana 4-H program fees. For those in livestock, there will be additional enrollment needs at later dates. One may drop or add projects through May 15. Archery, dog and horse & pony projects will close on January 15 so leaders may continue to progress through activities due to the building of content in the activities.
If one is interested in Exploring 4-H for second graders; it is best to sign up using our paper enrollment form and pay the $5 fee via mail or the office. If signing up online do not pay the fee there as it is set only for the $25 fee for the regular 4-H program. Only select "mini 4-H" and pay later if signing up online. Extension staff will be conducting school visits and sending home info for Exploring 4-Hers following the Christmas break. There are seven mini or Exploring 4-H project options compared to nearly 75 for the regular 4-H program.
For more information about specific 4-H subjects in Putnam County or the 4-H program in general, visit www.extension.purdue.edu/putnam to learn more.  If you have questions about Putnam County 4-H, contact Mark Evans, 4-H Youth Development Extension Educator, Kim Beadles, 4-H Youth Program Assistant or Kristy Straziscar, Office Team Manager for help.
Visit our homepage at www.extension.purdue.edu/putnam or you can contact the local Purdue Extension Office by calling 765.653.8411 for more information regarding this week's column topic or to RSVP for upcoming events. It is always best to call first to assure items are ready when you arrive and to RSVP for programs. While many publications are free, some do have a fee. Purdue University is an equal access/equal opportunity institution. All times listed are Eastern Time.
Upcoming events
January 9 – Farmers Market Vendor Workshop Series, Extension Office, 6:30 pm
January 9 – Junior Leader 4-H Meeting, 6:30 pm, Fairgrounds.
January 15 – All County Offices Closed for MKL observance
January 16 – Pre-Season PARP, Fairgrounds, 1:00 pm, Cost $10 for credit, RSVP at
http://tinyurl.com/yap82khl
January 18 – 4-H Council Meeting, 7 pm, Extension Office
January 19 – Why are Crop Budgets so Important? Webinar, 12 Noon, RSVP at
https://ag.purdue.edu/Extension/wia/Pages/webinars.aspx
January 29 – Annie's Project Starts, $75, Extension Office, 6:00 PM
February 1 – New 4-Her Orientation, 6:30 pm, York Automotive Building, Fairgrounds