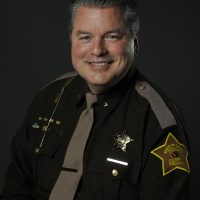 Putnam County Sheriff Scott Stockton was elected to become the newest member of the Indiana Sheriffs' Youth Ranch board of directors.
For 38 years, sheriffs and deputies have hosted youth leadership camps at rented venues across the state. The Youth Ranch, in Clay County,  will be the permanent home for the camps, which will expand to more days per week and more weeks per summer – quadrupling the number of teens who participate. In future years, sheriffs also hope to offer weekend retreats at the camp for young witnesses and victims of crime.
Now serving his first term as Putnam County Sheriff, Stockton previously had a distinguished 28-year career with the Indiana State Police, where his worked included working undercover, fighting drugs and investigating white collar crimes.