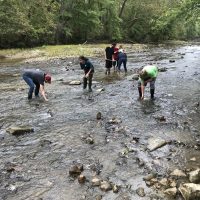 This fall Greencastle Middle School (GMS) had the opportunity once again to assess the health of Big Walnut Creek adjacent to the Putnam County Fairgrounds between the Greencastle Water Treatment Plant and the US 231 bridge. Students were able to access Big Walnut Creek to record measurements and follow-up with a health determination back in the classroom. This joint evaluation effort was led by Stacie Stoffregen of GMS with assistance from Purdue Extension Putnam County staff.
Students were assessing the benthic macro invertebrates, words when broken down mean bottom dwelling, large enough to see visually organisms without spines or backbones. Stream organisms like insects, arthropods, and fish live in a stream year round and depending on the type and species have varying degrees of tolerance to pollution.
Typically, a greater number of species (high level of diversity) indicates positive stream health whereas even a large number of a single species would be indicative of poor stream health. A biological assessment is typically more meaningful than a chemical test since the organisms living in the stream year round would be impacted by a short term, singular pollution event. A chemical assessment would most likely miss a short term, singular pollution event since one would not likely be on location during the pollution event. Furthermore, steam organisms have been categorized into four different groups ranging from very intolerant of pollution to very tolerant of pollution. The presence of stream organisms like mayfly, stonefly, caddis fly, and dobson fly larva are indicative of a healthy stream. Did you know that there are also left and right handed snails? Right handed snails are indicative of a healthy stream.
Students found that Big Walnut Creek near the Putnam County Fairgrounds exhibited indicators of great stream health and healthy watersheds upstream. Numerous organism species that are intolerant of pollution were found! Applying the student's conclusion to the specific watershed, it would appear that agriculture as the primary land use of the land area (watershed) upstream is not having a negative impact on the stream.