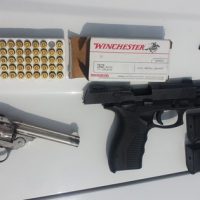 Yesterday morning at 10:30, Indiana State Police Trooper James Tret spotted a gold 2004 Kia Sedan traveling at 107 miles-per-hour, eastbound on Interstate 70 near the 21 mile marker in Clay County. Senior Trooper Bill Bradbury was patrolling eastbound near the 23mm, when suddenly the vehicle approached the rear of Trooper Bradbury. The vehicle was stopped and during conversation with the driver, S/Trooper Bradbury noticed the smell of what appeared to be Marijuana. Further search of the vehicle yielded a loaded .45 caliber semi-auto handgun near the driver's seat and a loaded .32 caliber revolver in a duffle bag near the rear seat area. Less than one gram of suspected Marijuana was found. 
The driver was identified as 26-year-old Raymone L. Melton of Terre Haute, IN. He was immediately taken into custody and was somewhat uncooperative. During transportation to the Clay County Jail, the handcuffed Melton attempted several times to remove his seatbelt and unlock the door of Bradbury's police commission. 
Melton was preliminarily charged with Possession of a Handgun by a Serious Violent Felon, Possession of a Handgun without a License, Resisting Law Enforcement, and Possession of Marijuana.