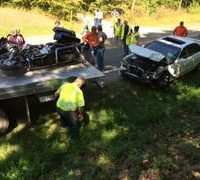 Indiana Conservation Officers responded to a crash involving two vehicles and a motorcycle.   Omar Mosby, 34, and Ashly Mosby, 27, both of Rockville were arrested on multiple charges.
The incident took place yesterday around 1:30 p.m.  Witnesses reported that Omar Mosby rear-ended a silver SUV before crossing the center line and striking an oncoming motorcycle.  Mr. Mosby was seen exiting the vehicle and fleeing the scene on foot.
The driver of the silver SUV was treated for chest and neck pain, and both the driver and passenger of the motorcycle were airlifted with mulitple serious injuries.
Mr. Mosby was arrested for multiple charges, including operating vehicle while unlicensed, leaving the scene of an accident involving serious bodily injury, possession of a Schedule II controlled substance, and false informing.  Ashly Mosby was also arrested for false informing.