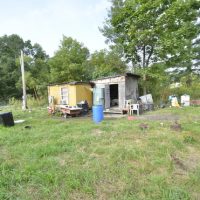 Yesterday afternoon and evening (August 30), Indiana State Police arrested the mother and step-father of an 11-year-old special needs girl on one count each of Neglect of a Dependent (felony). Arrested was 29 year old Autumn Renee Stone Snodgrass, and 36 year old Stephen C. Snodgrass.
The investigation originated on August 18, 2017 when Indiana State Police, Clay County Probation Officers, and Clay County Community Corrections Officers went to 3995 East County Road 1500 North in Clay County to conduct a home compliance check. No one was home, but officers noticed the home was in deplorable condition.
Over the next few days, Indiana State Police gathered information from various sources, which ultimately led to a Clay County search warrant for the home.
On August 29, 2017, Indiana State Police and the Clay County Probation Office served a Clay County search warrant on the residence. The mother, step-father and daughter were interviewed with the daughter ultimately placed in foster care and currently doing well.
During execution of the search warrant, investigators documented that the small outbuilding shack type home was unclean, no indoor modern plumbing, unprotected electrical outlets, unprotected electrical wires in and around the building, trash strewn about, raw sewage on the ground around the structure and adjacent to the small water well, and numerous other health hazards.
Autumn R. Stone Snodgrass was taken into custody yesterday afternoon at approximately 2:15. Stephen Snodgrass was taken into custody last evening at 8:47. The pair was incarcerated in the Clay County Jail.