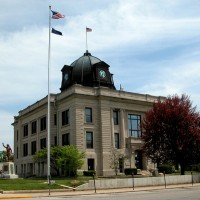 A trial date of August 10 has been set for Kyle Parker, 22 of Spencer, in the case of little Shaylyn Ammerman's murder. His charges include murder, rape, child molestation, kidnapping with serious bodily injury, aggravated battery, strangulation, obstruction of justice, and failure to report a dead body.
Parker pleaded not guilty via video from Owen County Jail March 28, in his initial hearing, and was appointed counsel. Parker is currently the only person charged in this case. According to court documents and reports, Parker never admitted guilt though he told authorities where to find Shaylyn's body. In fact, he has implied he was not the only person involved. Though Adam Ammerman (Shaylyn's uncle) passed a polygraph, Parker implicated him in Shaylyn's disappearance, however, Adam reports having seen Parker carrying something as he left the Ammerman/Morgan house between 3:00 and 4:00 AM the night before Shaylyn was discovered missing. Also, Parker's description of how the child's body was disposed had multiple inaccuracies. Reportedly, Parker's stepfather, Mike Patton persuaded Parker "to do the right thing" and cooperate with police. According to the probable cause affidavit, Patton told investigators a large part of Parker's role in crimes against Shaylyn, such as how he admitted to taking Shaylyn from her crib that night, and she was alive and dressed when he took her from the home. The affidavit states that Parker told his stepfather, he pulled over as he drove towards Gosport, and raped Shaylyn in the front seat of his vehicle, and that the child was alive when he raped her, and then allegedly murdered Shaylyn by smothering her with some cloth he already had in his vehicle. Parker told his stepfather that he tried to clean up evidence of the crime and create "reasonable doubt" by using the bleach to destroy DNA evidence. Parker was found to have numerous scratches on his forearms and hands, and his car had recently been cleaned, as well as trying to dispose of items from his car, which were recovered.
Forensic Pathologist Dr. Donna Stewart with the Kentucky Medical Examiner's office, (who conducted Shaylyn's autopsy and specializes in pediatric autopsies with sexual battery and molestation) said injuries to her nose and mouth were consistent with someone smothering her, and injuries to her throat were consistent with being strangled. Dr. Stewart remarked this was the "worst case of sexual trauma" she'd seen in her career.
Parker reportedly told his stepfather that he wasn't going to spend his life in prison, that he would commit suicide. His stepfather told police that he felt Parker would kill himself if he was allowed to go home. Parker has been on suicide watch since arriving at the jail. He wears a heavy blanket that will not rip, but has made no further suicidal statements since his arrival. The investigation remains open. Owen County prosecutor team starts meeting this with topics such as the death penalty.
For more links, and sensitive details visit this story at WREBfm.com.
Tags: