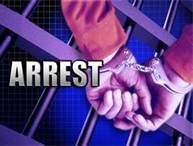 Around 4:30 yesterday afternoon, Friday, September 18, 2015 a traffic stop by an Indiana State Police Trooper turned into a criminal investigation after the discovery of 18 kilograms of alleged cocaine on a commercial motor vehicle.
The trooper stopped the semi-tractor trailer for a safety inspection on eastbound I-70, near the Cloverdale exit at the 41mile marker. During the course of the inspection and conversation with the driver, Terrell Turner, 50 of Houston, TX the trooper developed information consistent with the trafficking of illegal drugs. A subsequent search of the vehicle resulted in the discovery of suspected cocaine with a street value in excess of $700,000.
As part of Governor Pence's recently announced task force on Drug Enforcement, Treatment and Prevention, the state police are providing enhanced training for troopers to look beyond the traffic ticket for indicators of criminal activity.
Turner was arrested for allegedly Dealing in Cocaine, a level 2 felony, and transported to the Putnam County Jail where he is being held without eligibility to post bond.