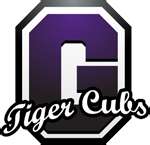 ELEMENTARY STUDENTS:
THIS IS YOUR FREE TICKET TO COME SEE THE GHS VARSITY FOOTBALL TEAM
PLAY THE WEST VIGO VIKINGS
Any Elementary student who brings this ticket to the September 4th varsity football game, accompanied by a paid adult, will be allowed into the game for free (a $5.00 value).
The game will be played at Harbison Stadium at Greencastle High School.  The gates will open at 6:00 p.m. and the kickoff is scheduled for 7:00 p.m.
The night will be exciting & fun for all – hope to see you there!
Please join us for Elementary Night at Greencastle High School's Harbison Stadium on Friday, September 4th.   We want everyone to enjoy the game, please do not bring balls to throw as we are expecting a nice crowd.  GHS Football is FANtastic!
(Admission for all GHS Varsity events is $5.00)