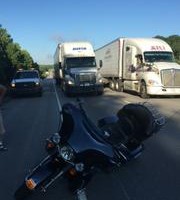 This morning at 8:17, Indiana State Police Troopers and Putnam County emergency agencies responded to a motorcycle crash in the eastbound lanes of Interstate 70 near the 37.5 mile marker. The driver was airlifted to Methodist Hospital in Indianapolis for treatment of facial lacerations and possible internal injuries.
Preliminary investigation revealed a 2012 Harley Davidson motorcycle, driven by 58-year-old Anthony Tingley of Terre Haute, IN., was eastbound on I-70 and lost control ultimately crashing to the pavement and skidding approximately 250 feet.
A witness following the cycle reported seeing smoke suddenly emit from the cycle while simultaneously weaving erratically and crashing. The witness reported the cycle behavior as if a tire had blown out. An examination of the motorcycle revealed a fully deflated and damaged rear tire.
Master Trooper Chris Harcourt stated, "The driver was wearing an approved DOT helmet which most likely reduced his injuries and/or saved his life".