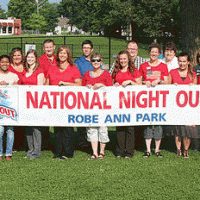 As a reminder The Putnam County Youth Development Commission invites families with children in elementary to middle school, to attend their 9th annual National Night Out, scheduled for Tuesday, August 4th from 5-8pm at Robe Ann Park. Their committee of community volunteers from schools, businesses, organizations, law enforcement, and social serving agencies have been organizing this year's annual free event since January to make it an exciting evening of fun for all who attend. WREB will also be broadcasting live at the event!
 Clover Meadows Golf course located at 1999 East County Road 1100 South in Cloverdale is hosting the Lions Club Golf Scramble! The event is scheduled for Saturday August 1st form at 8am. You can sign-up for this event by printing the registration form from the Lions Club website. A link will be provided to you below this article. The Golf Scramble will cost you $160 per team which includes green fees, cart, lunch and prizes. For more information about this vent you can contact Larry Haltom at 765-721-0042. Link: http://cloverdalelions.weebly.com/golf-scramble.html
The Clay Community Schools' Special Session hired in 35 new employees yesterday. The jobs they will fill range from teachers, janitors, librarians, assistant teachers, bus drivers, food service personnel, and parent liaisons. East Side, Jackson Township, Clay City, Forest Park, North Clay, Cumberland Academy, Northview High School and Stauton Elementary Schools will be seeing new faces in the next school year.
The Putnam County Council has moved their regular meeting time from August 18th at 6:30pm to August 18th at 5pm. The meeting will still take place at the Putnam County Courthouse as usual. The agenda has also been unchanged. The reason for the time change is for the 2015 budget hearings that will occur the same day.