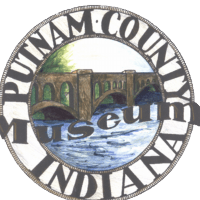 The Putnam County Museum will once again host the Putnam County Antique Tractor and Machinery Association on the parking lot at 1105 North Jackson Street, Greencastle, starting at 9:00 a.m. on Saturday, May 19th.
Among the planned demonstrations will be a stationery hay press and grain milling and other power take-off activities.  There will be a thresher and a binder on display, along with various types and ages of tractors and other farm machinery.  The Association members will be on hand to share and educate both the young and old alike on Putnam County's rich agricultural past and present.  In most cases, touching is allowed!
From 11:00 to 1:00 Kids Club will be held inside the Museum.  "Be a Storyteller" will be led by Tim Good, of the Putnam County Playhouse and DePauw University.  Children of all ages are welcome to participate in crafting and performing a story cooperatively created by the attendees. Refreshments will be provided.
Also starting at 9:00, the Pacific & Eastern Railroad Club will be operating their massive "O" gauge railroad layout.  This is quite a sight and the Club members are happy to answer questions and share their knowledge of railroading.
At noon, Mahoney's Coneys will be available for lunch.  Marge Mahoney Miller has graciously offered to make her Dad's famous recipe coneys, which will be served with chips and a drink as a fundraiser for the Museum.
These events are free and open to the public.If you have questions, please call the Museum at 765-653-8419.